Hand Applique Orange Peel Quilt
A long time ago, I made a quilt using an orange peel block.  I LOVED the look of it.  This quilt was made using a machine applique technique, and it was pretty quick and fun to put together.
I used a different technique to make this orange peel block that you see on this sampler quilt.  This block uses a raw edge machine applique technique.  This was by far the easiest way to do an apple peel block.  But, I still needed to make life harder.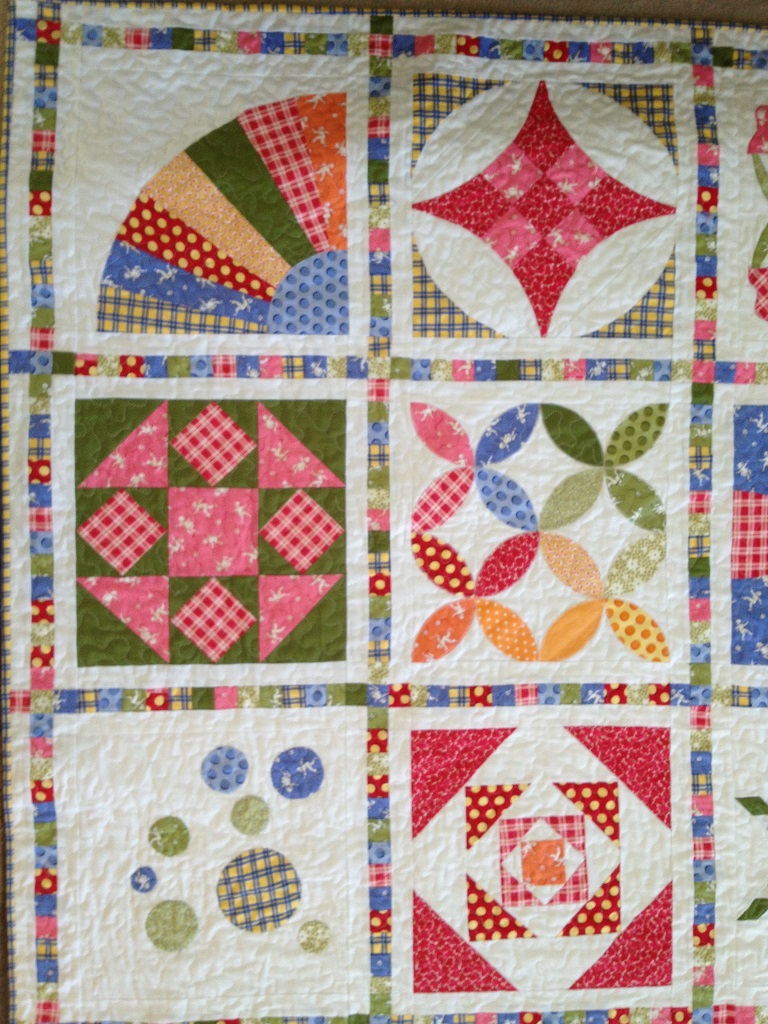 Then came this post from Amanda Jean of Crazy Mom Quilts. I couldn't get this quilt out of my mind. It had that extra challenge I was looking for: hand applique. I was officially inspired.
Instead of doing a dark value orange peel over a light value block, I thought I would try something a little different and go with cooler colored orange peels over warm color blocks.  I ended up with something like this: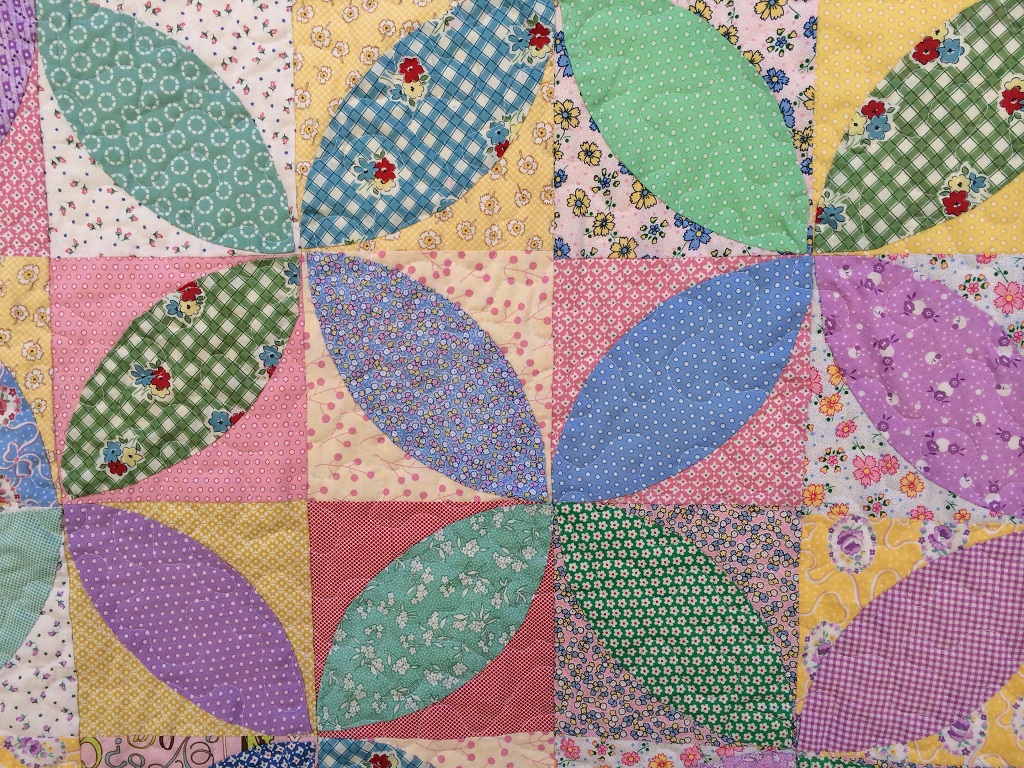 I have worked on this since 2012.  I gave up many times.  Hand basting, then hand stitching?  It was a lot of tedious, time-consuming work.  I would work on this when I was outside watching the kids play, or while watching a movie with my husband, or riding shot-gun on long-distance road trips.  But, honestly, I kind of got tired of it.  I had planned to make two quilts with these blocks, but I barely even completed one.  That hand stitching can be a real beast!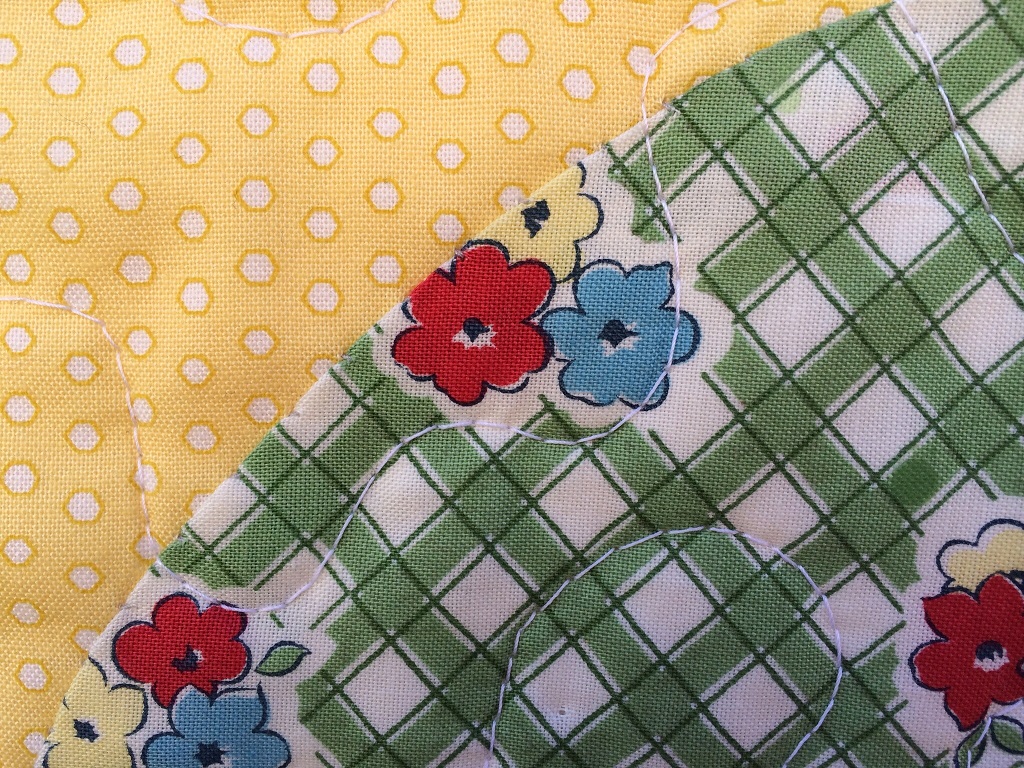 And when it didn't end up looking anything like Amanda Jean's quilt, I almost scrapped the whole thing.  All of that work, and I wasn't "in love" with it.  So, it lay in a box basted, but I had very little desire to quilt it.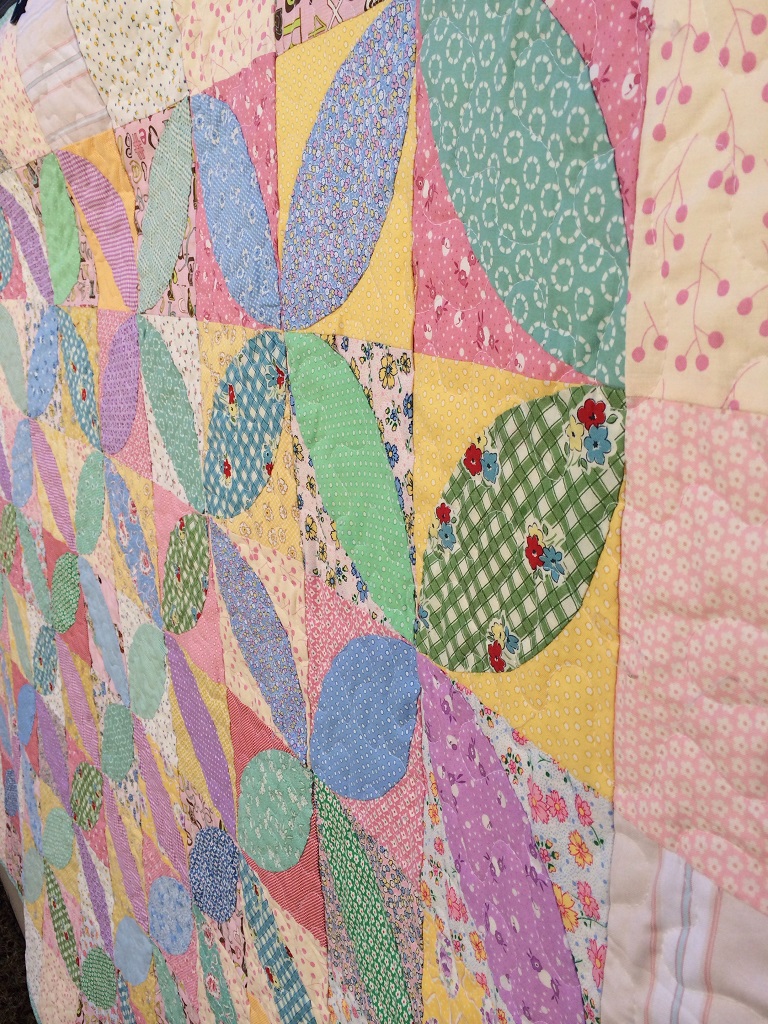 But yesterday, I stared at that poor, neglected, little quilt.  It certainly did have a cute personality.   And what is a quilt if it doesn't have a little character to it?  So, I decided to quilt her up, and see how she looked in the end.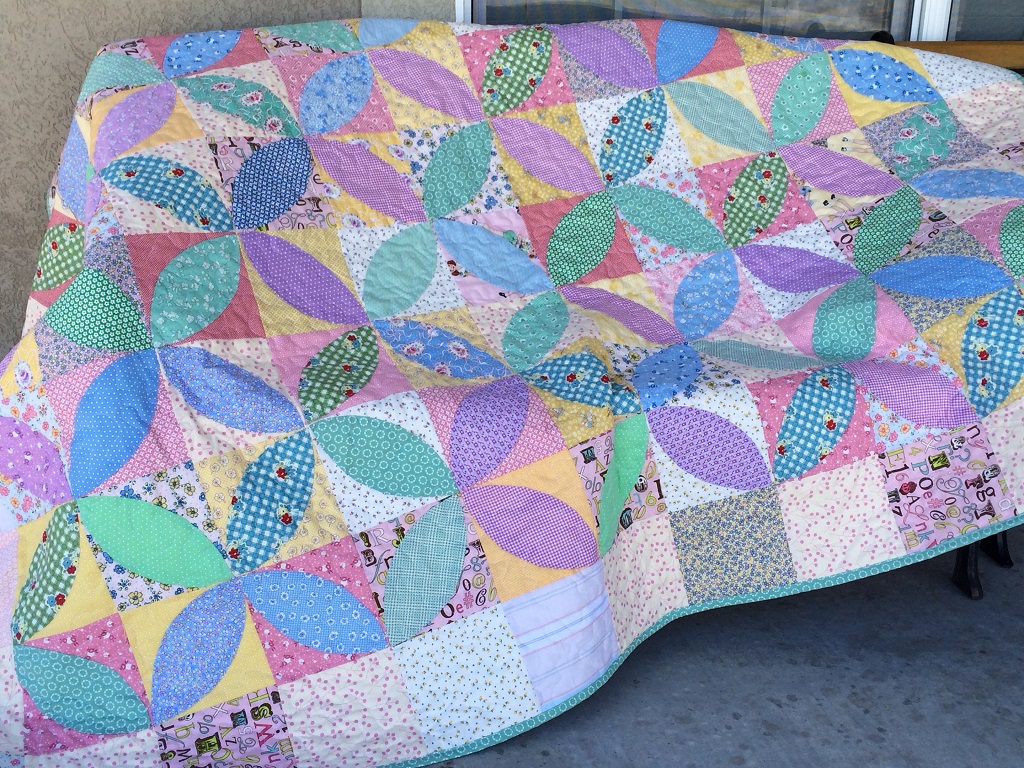 Guess what!   She turned out pretty darn cute.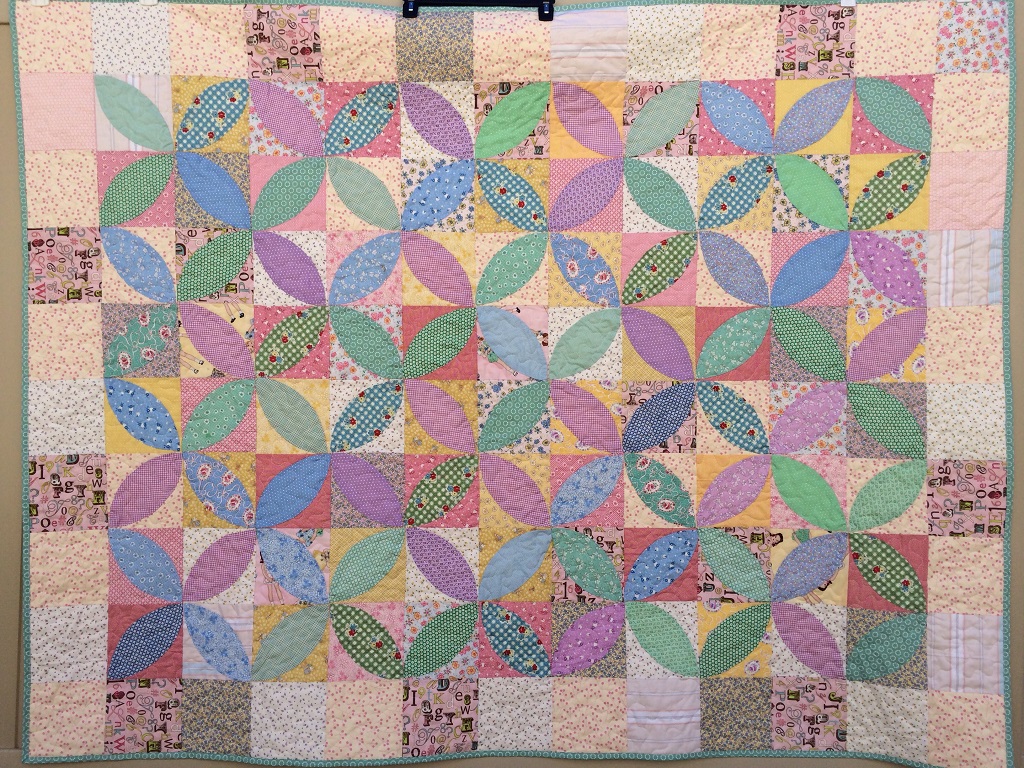 My kids immediately fell in love with her and wanted to claim her as their own.  But, I had a feeling that this one, although she would be loved at our house, deserved a family that would appreciate the novelty of a quilt.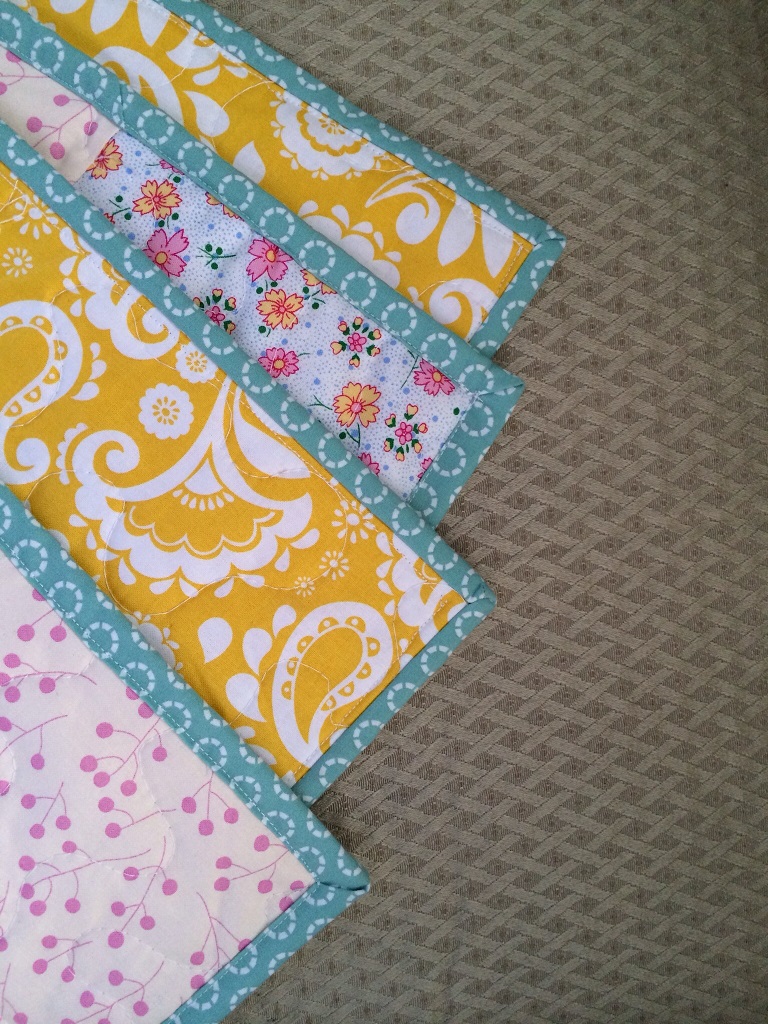 So, we folded her up into a neat bundle, and my two youngest children took turns walking her across the street to a little 4-year-old friend.  My kids were so excited to give the quilt to her, and they even did a good job keeping it a secret.  This part was actually really hard because, while she was at our house the day before, our little friend opened a fortune cookie that said, "A friend will soon bring you a gift."  My kids had to work so hard to not tell her anything!  When they finally handed her the quilt, she gasped and said, "It is so heavy."  And when she and her older sister opened it up, she gasped and said, "Oh, it is so big."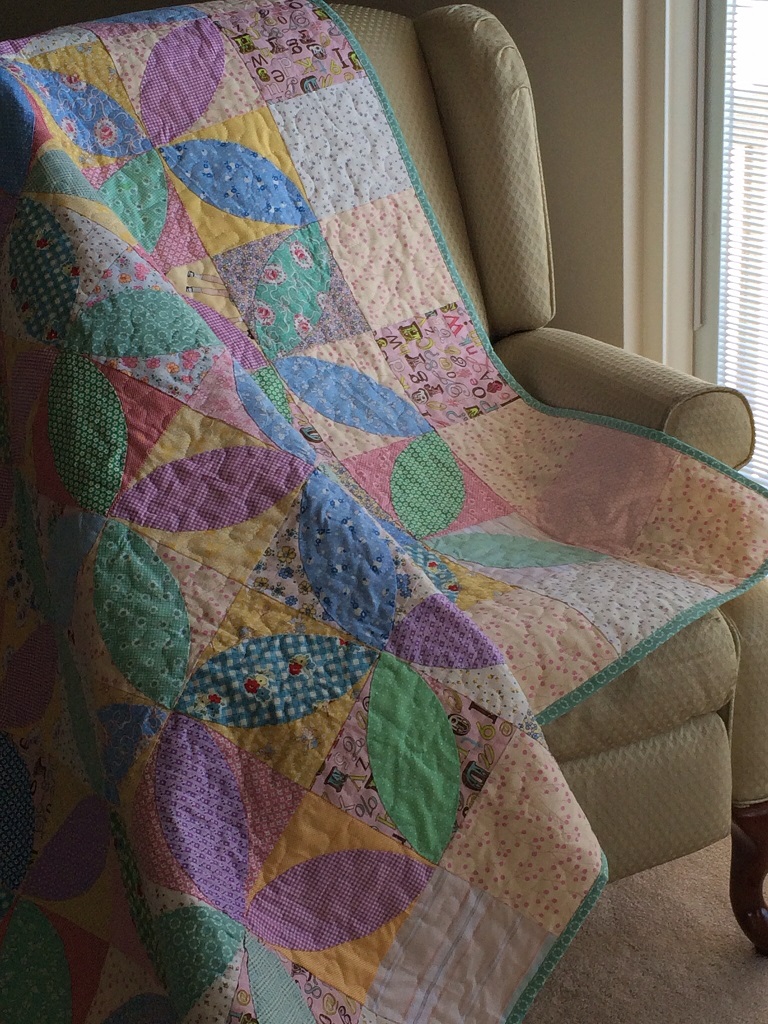 This quilt is 60 inches by 78 inches, and I can say that it is in a great home.