My kids' teachers' quilts are done!  This one is for a teacher who likes westerns and America.  I thought some stars and plaid were in order.  I used the woven fabrics currently being sold at both JoAnn and Hobby Lobby.  I love the texture of the woven fabrics.  It feels like I pulled this quilt out of a log cabin from the 1800s.  I will admit, though, that I was confused when I cut the fabric.  I wasn't sure whether to cut according to the design (and the weave) or to cut according to how the fabric lay (no, it did not lay straight), so that is why the pattern on the blocks looks a little skiwampus.  I cut according to the lay of the fabric.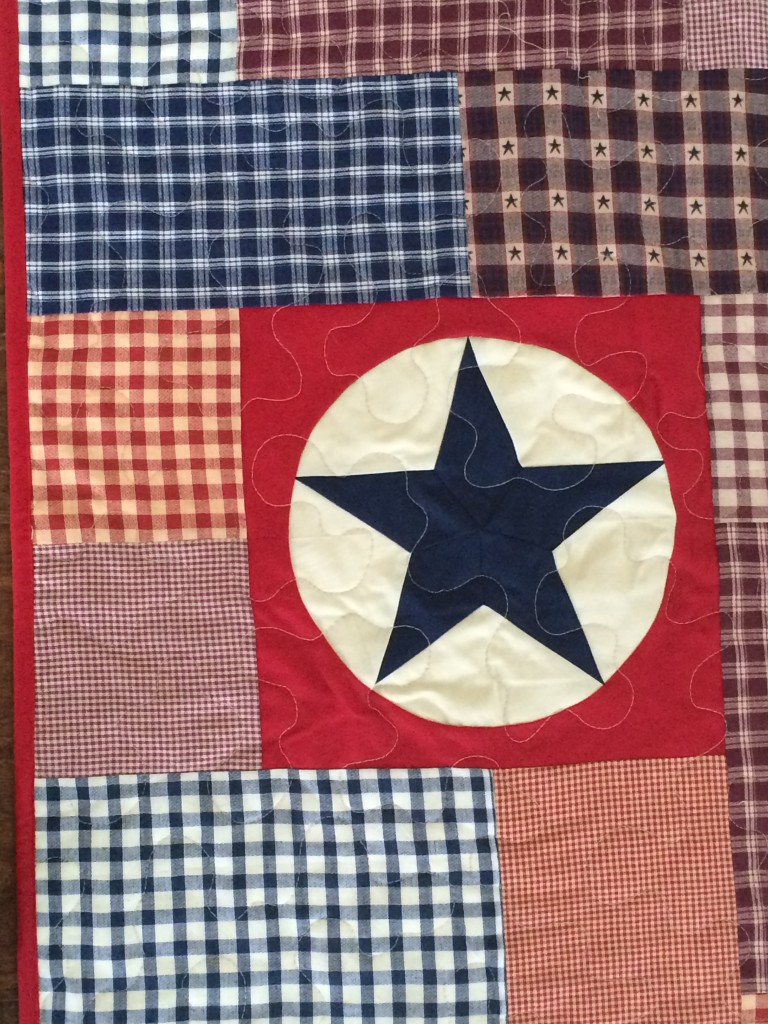 I used an EZ quilting drunkard's path template for these blocks.  It has a star template included in it.  It was very easy to put together.  The most difficult part for me was sewing the white circle inside the red circle.  But, hey, I figured it out (at least 9 times) and got it done.
The simple meandering quilting was the perfect way to finish this relaxed quilt.  Add a bright red binding, and I'm pretty pleased with this little quilt.  Hoping my kid's teacher loves it just as much.
All of the teacher quilts have a strip of white/off-white on the backfilled with their students' handprints and signatures.  Probably my favorite part of the teacher quilts, and the kids love it, too!
This quilt is twin-sized.  Thanks for visiting!