Chocolate and Caramel Hourglass Quilt (109)
I have been rather quiet on the blog, but the sewing machine has been humming as usual.  I wanted to get the most recent quilts finished before I took the time to blog.
I have been working on Teacher Quilts. I have thought a lot about why I do teacher quilts lately, and I have figured out what it is. I like giving quilts away. Also, I like trying out ideas that I see either in a book or online. As long as I can find a design that I think the teacher will appreciate and I have wanted to try out, then it is a win-win. I get to make the quilt I have always wanted to make, and she gets a quilt to remember her students.
Some people might wonder why I do a double-sided quilt, with the kid signatures on one side and a quilt pattern on the other.  My mother-in-law is a 6th-grade teacher, and she actually has received a few quilts from students and their moms in the past.  She uses them when family comes over and extra blankets are needed.  But I started thinking, wouldn't it be great to have a teacher quilt that didn't LOOK like a teacher quilt.  One where the kids were still a big part of it, but not the only part.  So, I hope people don't get offended when only one side celebrates the children, but that is how I make my teacher quilts.
The teacher who will receive this quit is an adorable single lady with kids and grandchildren.  She loves history and all things pioneer.  I knew I wanted to do a more traditional quilt for her.  I was debating whether or not to do a churn dash–I think either way would have been fine–but I opted to do the hourglass block for this quilt.
I heard that she likes forest green and dark natural colors.  She liked navy blue, but only because it is the color of her favorite college, not because she decorates with it.  This is not the color palette I normally work with, so I decided to be safe and go with a monochromatic quilt using brown and beige.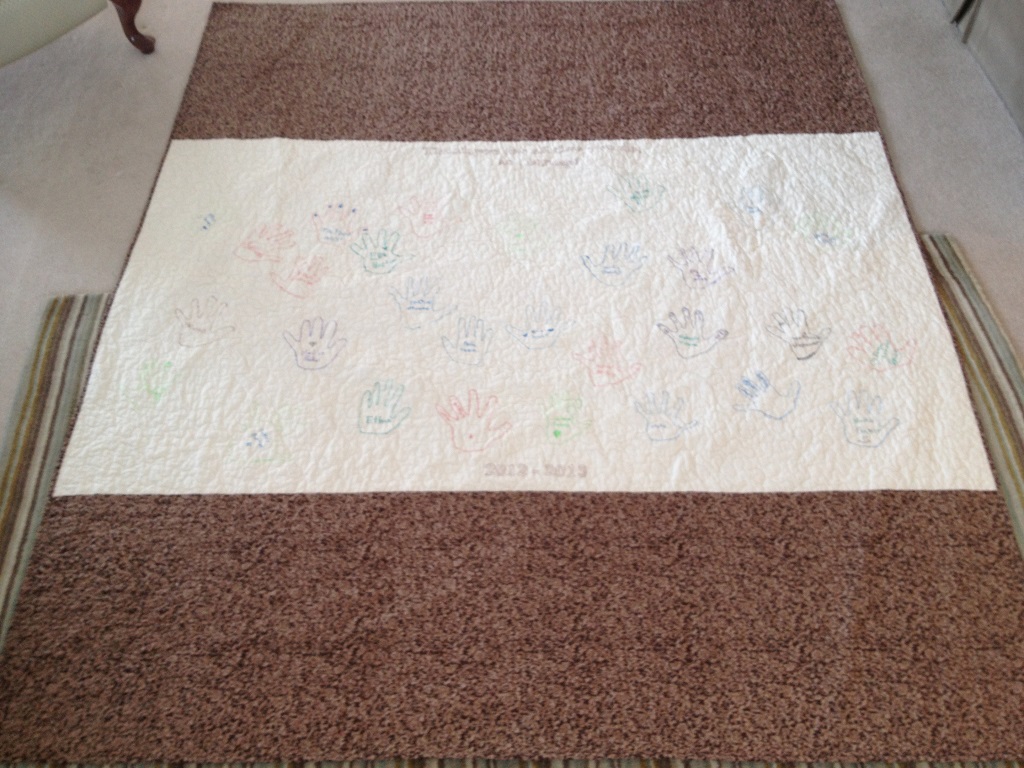 I wanted the students to be a part of this quilt, so I used the back to showcase their handprints with their names written inside.
This quilt is a full-size quilt, 72 by 86.  I hope this wonderful little lady with feel through this quilt our love and gratitude for her.
Teachers are amazing!