Intersections Quilt (163)
Many years ago (almost 1.5 years ago!) I made this quilt using Zen Chic's Figures collection.  I loved how it was both masculine and, with the coral color, a bit feminine as well.  This quilt went to my kid's teacher.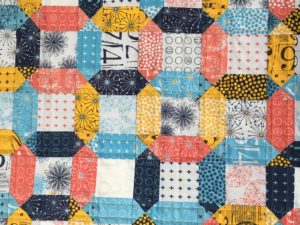 You'll notice that, in the process of making this quilt, I cut off a lot of corners.  Well, I saved those corners and decided to sew them together–to make intersections.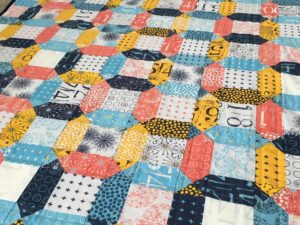 Then, after I made these square intersections from my triangle scraps, I sewed them to rectangles, and then sewed those rows to other rows with other squares and rectangles, and BAM!  This quilt top was born.
To be honest, this quilt top has been sitting around my house for over a year.  Just a lonely quilt top.  It was a busy year.  And beside it sat a lonely cut of yellow minky. Not exactly a matching yellow, but a soft irresistible yellow, because at that point in time, there was no such thing as a matching yellow minky.
And so, after a neighbor had a baby, I took that yellow minky fabric, and with cotton batting in-between, basted it to that quilt top.  After many times sewing the quilt sandwich in a straight line echo stitch over and over and over again, it was finally done.
All it needed was to be bound, which I did with this super dark navy blue Kona cotton.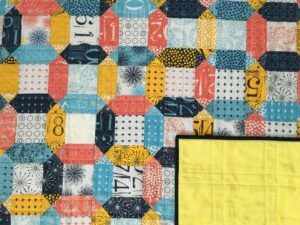 And it was complete.  It is now in the hands of a new owner, a little boy about 2 months old.  Not bad for a quilt top that has been sitting around for a year.   And, seriously, that yellow non-matching minky feels AMAZING!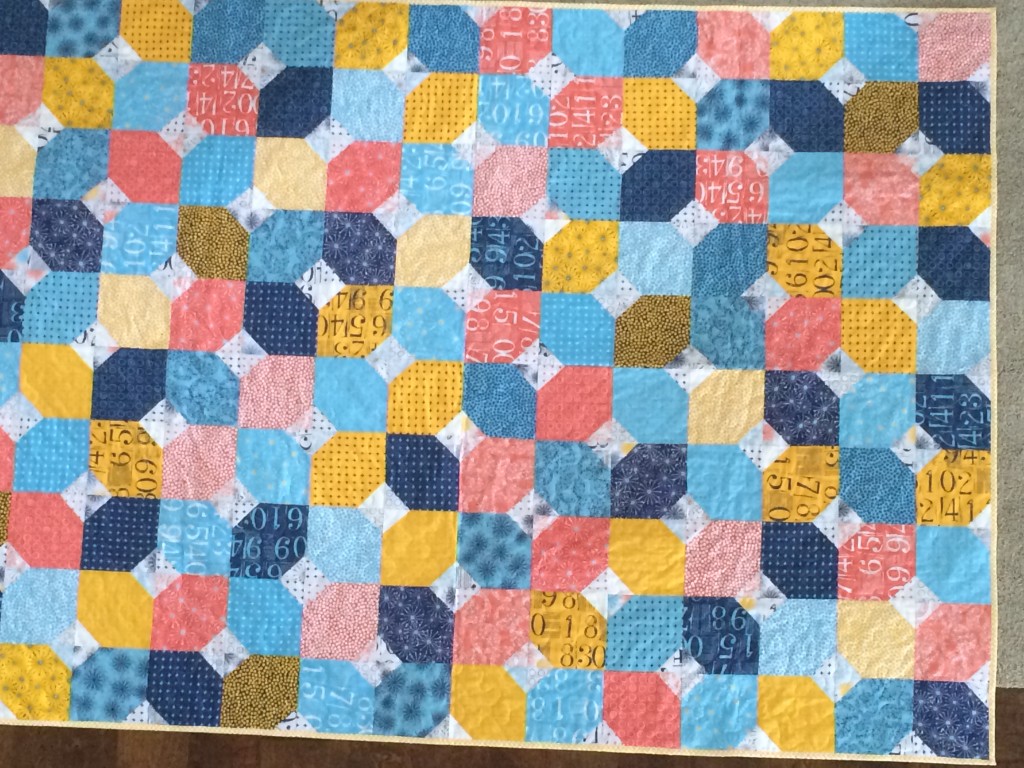 Thanks for stopping by!